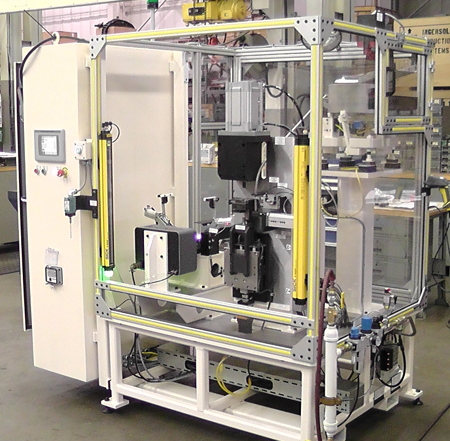 Ingersoll Production Systems was also selected to design and build a one-of-a-kind machine to automate the assembly of new hydraulic flow control system components. The new "Smart Flow" technology promotes a reduction of work required by the pump therefore reducing fuel consumption in vehicles which cannot yet make the switch to Electric Power Steering.
The machine's purpose in this new technology was to use an integrated measurement system to build a flow control system specific to the pertinent dimensions. This resulted in a "built-to-suit" pump assembled around flow requirements as opposed to verifying flow characteristics after typical assembly.
Ingersoll was able to do this with a vision system integrated with a high accuracy press which provided an extremely accurate overall measurement/assembly capability. Ingersoll followed this assembly with a Telesis marking system which provided significant information on the specific pump which can be used for quality studies, capability tracking, and lot control.
IPS is proud to have been selected to develop this unique and very important new technology. Additionally, our customer has stated that they are "extremely impressed and very happy, not only with the machine outcome, but the professionalism, timeliness, and overall out-of-the box thinking that will make this program a huge success."